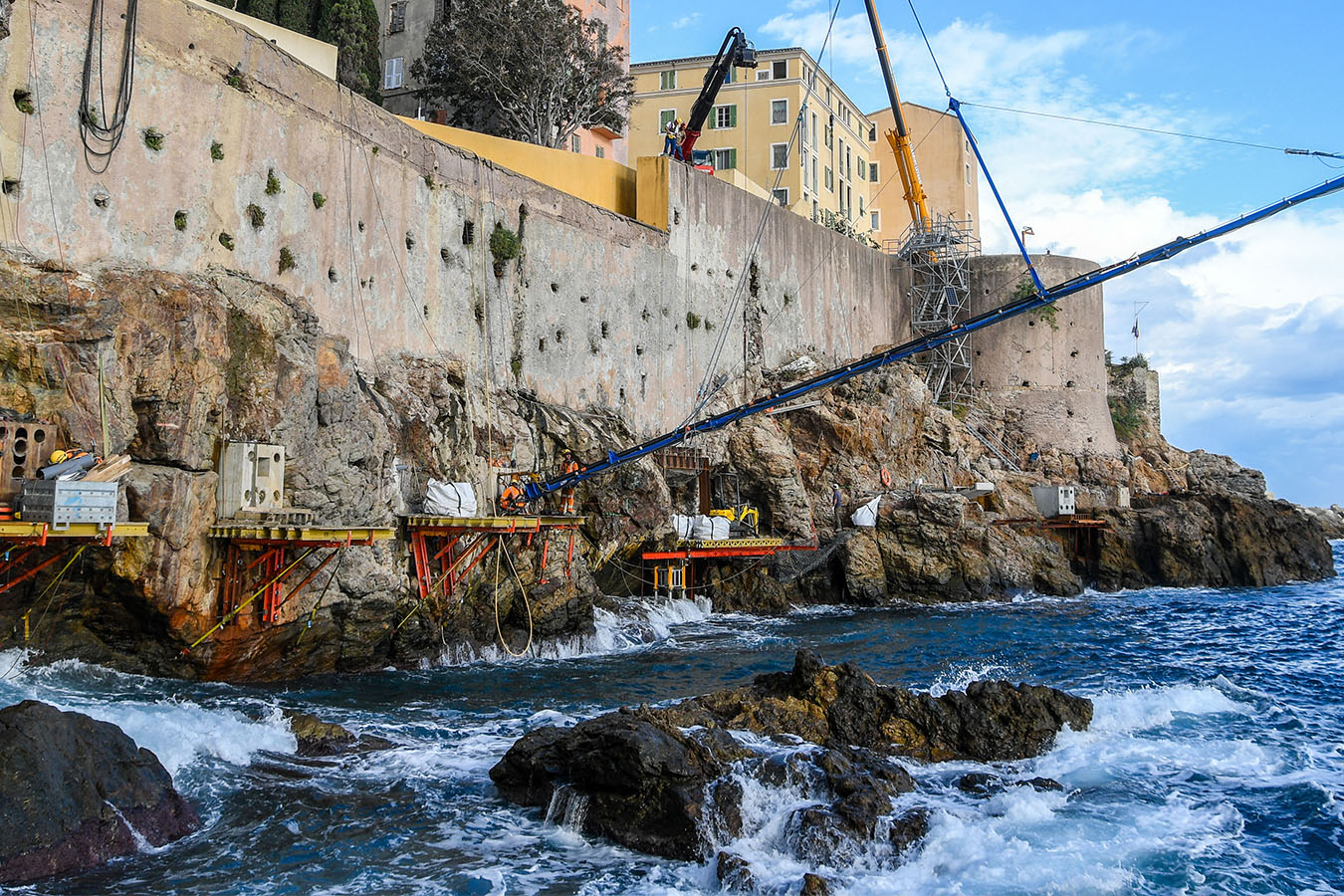 Aldilonda, a vantage point suspended above the Mediterranean
Location

Bastia - Corsica
Type

Safety engineering and retention works
Subsidiary
Beneath the citadel of Bastia in Corsica, the project to build the Aldilonda walkway combines an extreme level of technical expertise with spectacular surroundings.
Dedicated to eco-friendly mobility, this walkway must also meet all the constraints of interaction with a listed monument. In addition to offering panoramic views of the Mediterranean, it will also provide a 450-metre pedestrian walkway along the base of the citadel, connecting the north of the city and its harbours with the beaches and seafront promenade in the south.
The nature of this worksite makes it impossible to use heavy machinery. Innovative lifting equipment and experienced rope access technicians are being used to install the component parts of the project, all of which have been specially designed for this unique environment.
The
key figures


of the project

300 lm

of coastal vantage point

1,200 m2

of material broken out and removed from site

46 operators

from 3 branches across the South of France
ChalleNGE: Environmental constraints and the impossibility of accessing the worksite from the sea forced the engineers at the NGE FONDATIONS Research and Innovation Department to develop a series of special tools to build these complex structures. 5 completely new, innovative and custom-made prefabricated parts were needed to create the walkway.
Suspended directly above the water, the walkway will be exposed to the worst of the weather and the sea. But these hazards are totally under control. In a severe storm, the walkway will be able to withstand upward loadings of 14 tonnes per m2, which is 14 times higher than an HGV. The deck has a V-shape profile to limit the forces generated by sea swells.
The
main stages


of the project
Laying of the foundation stone
Concreting
Work on concreting the walkway began in June 2020.
Drilling
Installation of temporary platforms to carry the support brackets, deck support beams and concrete component support methods. Drilling was completed in May 2020.
Installation of support brackets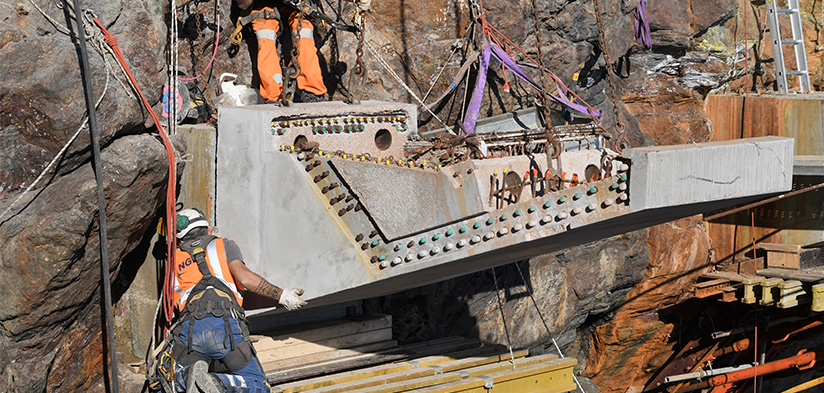 The support brackets were first anchored into the rock with anchor rods, after which the deck slabs were laid and keyed into the brackets. The work to install the support brackets continued until May 2020.
Deck laying
The deck slabs were laid and keyed into the support brackets. The final slab was laid in June 2020.
Handover
Completion of work by NGE FONDATIONS.
Official opening of the walkway
Bastia City Council officially handed over the Aldilonda to local residents and visitors to Corsica !