Locations and subsidiaries
17 countries
more than 100 locations
60 subsidiaries
ABTP BIARD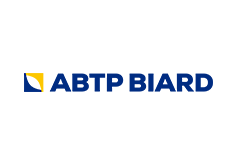 ZA Vallade Nord CS 50004
24100 Bergerac
France
Based in the city of BERGERAC, Agence de Bâtiment et Travaux Publics BIARD is a specialist in earthworks and wastewater drainage works.
Road building & road equipment
AGILIS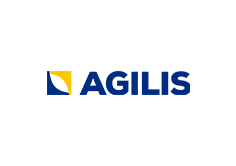 (Siège social)
245 allée du Sirocco
ZA la Cigalière IV
84250 LE THOR
France
Visit the website
A SPECIALIST IN ROAD EQUIPMENT, SPORTS GROUNDS AND LANDSCAPING
TAILORED SOLUTIONS
A specialist in road equipment, sports grounds and landscaping, AGILIS offers a comprehensive range of services from the design and completion of works to their maintenance. The expertise of the more than 500 women and men who make up AGILIS's teams, their know-how and their in-depth regional knowledge make it possible to provide tailored solutions and a comprehensive range of services benefiting clients and their infrastructure, based on a sustainable approach to quality, the environment and society.
ADDED VALUE
Founded in 2002 by its current Chairman, Didier Longeron, AGILIS has become a French leader in the Road sector. With sites dotted throughout France, its engineering offices, its equipment fleet and a technical division responsible for the design stage as well as providing technical and regulatory support. AGILIS makes the difference.
COMMITMENT: OPERATIONAL EXCELLENCE
From large transport infrastructures to local projects, AGILIS secures, coordinates and develops using cutting-edge equipment, while continuing with dedication to maintain over 1000 construction sites per year for public and private customers.
Road building & road equipment
BARAZER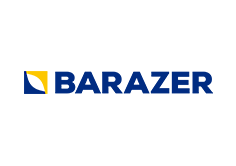 ZA de Restavy
Rue Jean Brito
56 240 PLOUAY
France
BARAZER is the specialized regional earthworks subsidiary of NGE, a French multi-category building and public works group.
BARAZER, a local player serving its territory, carries out earthworks of all types (from general earthworks to urban Vrds), intended for public and private customers.
Whether it is for urban or road projects, BARAZER approaches each project with the same know-how: its expertise and knowledge of the territory allow it to provide tailor-made solutions to serve the client and his work.
The synergies developed with the NGE Regional Directorates offer BARAZER the opportunity to position itself on more technical projects.
Urban infrastructures & earthworks
BERENGIER DEPOLLUTION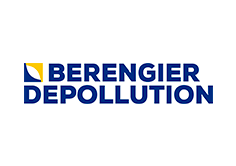 Lieu-dit La Périère
49170 SAINT-GERMAIN-DES-PRÉS
France
BERENGIER DEPOLLUTION is an expert in the field of pyrotechnic depollution and asbestos removal.
Urban infrastructures & earthworks
EHTP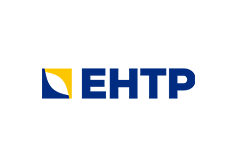 (Siège social)
Parc d'Activités de Laurade
Saint-Etienne-du-Grès
BP 47 - 13156 TARASCON CEDEX
France
We provide a comprehensive service for water supply and wastewater drainage networks. We are expert in all the techniques involved in the collection, piping and treatment of wastewater, the replacement and interconnection of water abstraction pipelines and associated hydraulic structures, drinking water treatment, and the installation and fit-out of dry networks, especially those for electricity supply.
We are also well known for our expertise in optical fibre network engineering to facilitate the rollout of FttH (Fibre-to-the-Home) to areas not already served. Bridging the digital divide is a live and substantial social and regional development issue, and we are very proud to be part of the solution. One of our flagship projects in this market is a public initiative network (PIN) for the French departments of Haut and Bas-Rhin; the first of its kind on such a scale, it serves 700 separate communities.
We are involved in the design, construction and operation of two major public initiative networks in France, totalling 1,500,000 connections; a figure that represents 10% of all the PINs included in the French Superfast Broadband Plan.
Pipelines & other underground networks
GUINTOLI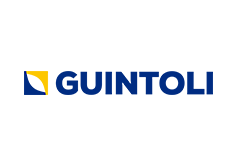 (Siège social)
Parc d'Activités de Laurade
Saint-Etienne-du-Grès
BP 22 - 13156 TARASCON CEDEX

France
GUINTOLI is the historical and main subsidiary of NGE for the VRD activity and earthworks. Thanks to its regional entities (BARAZER TP, BROUTIN TP, MARMIN TP, MULLER TP, TP LYAUDET, and TPRN), it is able to work on construction sites of all sizes, from general earthworks to VRD works.
Drawing on the experience gained over several decades on the major motorway and LGV construction sites, GUINTOLI operates throughout the country as a specialist in land movements.
Urban infrastructures & earthworks
LACIS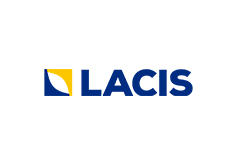 Chemin de Moundran
31470 FONSORBES, Midi-pyrénées
France
LACIS provides dedicated electrical installation services for all types of project.
NGE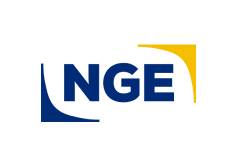 Avenue de Laurade
13103 Saint-Étienne-du-Grès
France
WE ARE THE NEW GENERATIONS OF ENTREPRENEURS
We believe in the strength of the team, we thrive with and for our customers, we continually advance and push back our own boundaries, we look to the future with confidence and optimism, we apply our experience with passion and never compromise the standards, we focus our energies for the benefit of all the new generations and we build structures that make the world a better place.
Multi-trades, customer service and their work.
NGE brings together 7 construction trades and offers a comprehensive approach to carrying out the projects entrusted to it. This is the force of multiple exchanges.
Building construction

Pipelines & other underground networks

Civil engineering

Road building & road equipment

Geotechnical solutions

Rail infrastructures

Urban infrastructures & earthworks
NGE CONCESSIONS

NGE Concessions
Square Edouard VII
20 rue de Caumartin
75009 PARIS

France
Working through NGE Concessions, we step in where the Group's centres of expertise are required to fund, design, construct, service and maintain infrastructures by setting up Public Private Partnerships in the form of concession contracts, public service outsourcing contracts and partnership agreements. We can act as consortium lead contractors or consortium partners.
NGE CONNECT

133 Boulevard De Graville
76600 Le Havre
France
NGE CONNECT is a new subsidiary company formed to take care of the design, rollout and maintenance of smart device networks, such as video surveillance, urban transport management, smart lighting and parking systems, and environmental monitoring systems. It is part of the Pipelines & Other Underground Networks business line.
Created out of our acquisition of S2F Network in Le Havre, whose core business is the development of smart device networks, to complement our expertise in optical fibre optics and power supply systems, NGE Connect will allow the Group to position itself in the market for the smart technologies that will be central to regional development going forward.
Pipelines & other underground networks
NGE FONDATIONS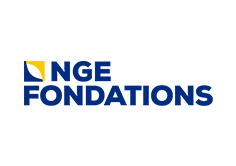 NGE FONDATIONS – a subsidiary of the NGE Group, which employs 14,000 people – is a contracting company specialising in geotechnical techniques, from soil mechanics to rock mechanics. NGE FONDATIONS provides support for all your foundation, reinforcement and special work projects.
With an operational presence throughout France, we provide our services in rural and urban areas, and in mountain and river environments.
Our organisational structure is designed to give us a regional presence that responds effectively to the needs of private-sector and public-sector customers, from private individuals to major infrastructure management operators. We play an active role in all types of national major project. These include the Grand Paris infrastructure plan, for which our teams are already working on several major projects.
For international projects, NGE FONDATIONS provides the full range of its expertise worldwide through NGE CONTRACTING, another NGE subsidiary company.
NGE FONDATIONS has 30 years of experience and multi-technical expertise: soil improvement, deep foundations, supporting structures, soil injection, reinforcement, difficult access contracting and civil engineering for specific applications.
KEY FIGURES FOR NGE FOUNDATIONS:
780 employees
18 branches throughout France
1 subsidiary: ROCS on the island of La Réunion
An in-house R&D Innovation department
€200 m in annual revenue for 2019
€80 m invested in an in-house plant and equipment fleet
Geotechnical solutions
NGE GC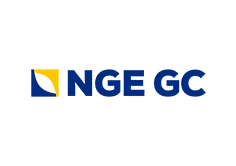 (Siège social)
Parc d'Activités de Laurade
Saint-Etienne-du-Grès
BP 22 - 13156 TARASCON CEDEX
France
NGE GC, the Group civil engineering subsidiary, works on technically complex projects whose advanced nature requires skills to be applied in synergy: transport infrastructures (road and rail engineered structures), industrial infrastructures (wastewater treatment plants, water reservoirs, hydropower plants, etc.) and functional infrastructures.
NGE GC also has a strong reputation for its underground work on major excavations, and for the repair and safety upgrading of road, rail and water system structures.
NGE GC has a presence in all NGE MULTI-EXPERTISE regions, in the form of Civil Engineering branches and within the Major Projects department.
Civil engineering
NGE IMMOBILIER

20 rue Caumartin
75 009 Paris

France
The real estate development division of NGE is working alongside the territories to support developments in the real estate sector and offer a global response to the service of usage. This division is able to offer global solutions by bringing together the expertise of the Group's three main businesses in construction, concessions and real estate development.
NGE INFRANET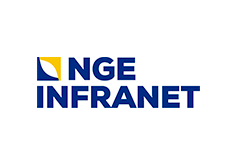 NGE INFRANET, with the support of EHTP and LACIS, has been created exclusively to pilot projects in the field of fibre optic deployment, and is responsible for the design of the telecom networks and the construction of the necessary infrastructures in air and underground.
The installation, the connection of optical equipment, as well as the maintenance of networks can also be ensured by his care. With her expertise, she is one of the major players contributing to the implementation of the France Tres Haut Débit plan. Its customers are telecom operators and communities.
Pipelines & other underground networks
Pontiggia

Pontiggia SAS is an Alsatian public works company created in 1991 by Robert Lichtenberger.
It is above all a story of women and men whose quality and determination have allowed the company to grow steadily and continuously since its inception.
Road building & road equipment
SIORAT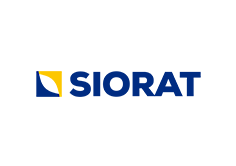 (Siège social)
Le Griffolet
19270 USSAC
France
Road construction specialist SIORAT builds and maintains roads, motorways, airports, multimodal transport hubs, urban road systems, etc. Working in conjunction with fellow NGE subsidiary AGILIS, alternatives such as concrete road surfaces can also be offered.
Road building & road equipment