Technicien Géomètre H/F H/F
Contract :
Location :

France, Auvergne-Rhône-Alpes, Saint Priest - 69800
Domain :

Géomètre et Projeteur (DGEP)
Published on :

19/04/2023
To apply
Presentation
In France and around the world, our teams create, build and renovate infrastructures and buildings serving the territories. With their expertise and ability to work together, the 16,500 women and men of NGE approach and anticipate the changes in their business with confidence by being closer to customers. With a turnover of 3,1 billion euros in 2022, NGE is an independent French company that is developing around building and construction trades and participates in the construction of major infrastructures and urban or local projects
---
Description
Intégrer MIRE, c'est rejoindre une filiale spécialisée dans le ferroviaire du Groupe NGE. MIRE est une entreprise dans le multi métier de la topographie.

Dans le cadre de notre développement, nous recherchons des Techniciens Géomètres H/F. A ce titre, votre rôle consiste à réaliser les relevés topographies de nos chantiers :

Vos missions sont de :
Préparer les interventions de vos équipes
Réalise, avant chaque intervention, l'inventaire et la préparation du matériel (chargement des batteries des moyens de communication, bombes de couleur, piquets, ...),
Manutentionne le matériel (piquets, ...), s'assure de sa mise en sécurité, et de la mise en place du balisage,
Assure l'entretien et le nettoyage du matériel, veille à la remise en charge des équipements électroniques après leur utilisation,
Prépare et vérifie l'exhaustivité des pièces nécessaires à sa mission (plans, fiches de polygonale, cahier de profil en travers, ...),
S'assure de l'accessibilité au site en vérifiant d'être en possession des autorisations indispensables (AITC, PPSP, accès site, ...).

Réalise l'ensemble des relevés terrains seul ou assisté :
Inspecte l'état du matériel et le met en station en contrôlant sa verticalité, le positionnement et la hauteur de la mire ou canne, Réalise des métrés et des cubatures précis et fiables,
Réalise les nivellements et les relevés à la canne,
Réalise les relevés techniquement plus complexes (codifications, auscultations, scanner, appareils de voies, ...), Matérialise les points d'implantation des ouvrages par la mise en place des fiches, des piquets, des clous, ...,
Réceptionne et vérifie la conformité des différentes phases de travaux (couches de forme, chaussée, terrassement, purge, ...).

Réalise les polygonales :
Réceptionne et vérifie la polygonale principale, détermine les écarts,
Réalise la polygonale secondaire par une densification des points au plus proche des données chantiers, Participe à la réalisation des calculs de la polygonale.

Cette liste n'est pas exhaustive.

Ce poste est à pourvoir en CDI.
De nombreux déplacements sont à prévoir.
Required profile
Vous êtes titulaire d'un BTS ou équivalent, vous avez idéalement une première expérience sur un poste similaire.

Vous savez effectuer des relevés topographiques et élaborer des plans d'exécution. Vous savez également utiliser les matériels de topographie ainsi que des logiciels de DAO/CAO.

Méthodique et précis, vous êtes également reconnu(e) pour votre ponctualité et votre aisance dans le travail collaboratif.

Permis B ou en cours d'obtention.
---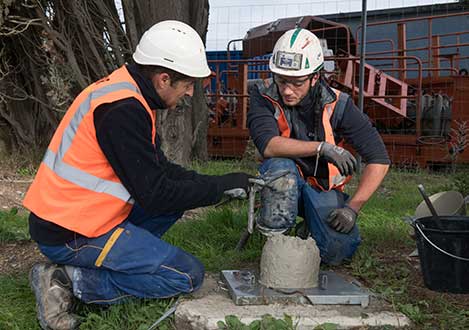 En créant notre propre école de formation, Plate Forme, nous nous sommes dotés d'un outil précieux qui nous garantit une totale autonomie dans la formation des collaborateurs et une conception sur-mesure de programmes qui répondent aux exigences des apprenants et aux besoins du Groupe.
4 centres de formation (3 en France et 1 au Maroc) et 2 plateaux techniques
80 programmes de formation
4 270 stagiaires en 2020
82 000 heures de formation en 2020