Technicien études de prix / Métreur H/F
Contract :
Location :

France, Auvergne-Rhône-Alpes, 69000 (Saint-Genis-Laval)
Domain :

Etudes de Prix (DEPA)
Published on :

28/02/2023
To apply

Presentation
In France and around the world, our teams create, build and renovate infrastructures and buildings serving the territories. With their expertise and ability to work together, the 16,500 women and men of NGE approach and anticipate the changes in their business with confidence by being closer to customers. With a turnover of 3,1 billion euros in 2022, NGE is an independent French company that is developing around building and construction trades and participates in the construction of major infrastructures and urban or local projects
---
Description
Intégrer TSO Caténaires, c'est rejoindre une filiale du Groupe NGE en plein essor spécialisée dans l'études et travaux de construction, de pose, de remaniement et d'entretien des lignes caténaires en France et à l'étranger.

Nous recherchons un(e) Technicien études de prix / Métreur H/F pour nos chantiers ferroviaires (caténaires).

A ce titre, votre rôle consiste à assister le Chef ou Directeur de projet sur suivi des aspects financiers et contractuels du projet et en particulier :

Gestion financière
- Établir l'avant-métré au démarrage du projet
- Récupérer et analyser les documents nécessaires à la préparation des situations (rapports journaliers, plans d'exécutions, …)
- Synthétiser les informations relatives aux travaux
- Établir les situations mensuelles
- Présenter aux clients les situations en vue de leur validation
- Participer aux réunions client
- Calculer la révision des prix
- Préparer, présenter et négocier les Projets de Décomptes Finaux (PDF)

Gestion contractuelle
- Suivre les aléas rencontrés (annulation de prestation, réduction du temps de travail, …)
- S'assurer du respect des délais du marché
- Réaliser les revues documentaires lors de l'établissement des PDF
- Régler les évolutions et les différents
- Établir les prix nouveaux

Ce poste est à pourvoir en CDI à Saint Genis Laval (69).
Des déplacements sur chantiers nationaux sont à prévoir.
Required profile
Titulaire d'un Bac+2/3 dans les travaux publics, le génie civil ou l'économie de la construction, vous avez idéalement une première expérience sur un poste similaire et avez envie de découvrir le monde ferroviaire et de la caténaire.

Vous avez une connaissances particulières des techniques métiers et des aspects contractuels des projets.

Vous maîtrisez les outils informatiques, les séries de prix.

Autonome et rigoureux(se), vous êtes également reconnu(e) pour vos capacités relationnelles, votre réactivité et votre capacité d'adaptation.

Le Permis B est obligatoire.
---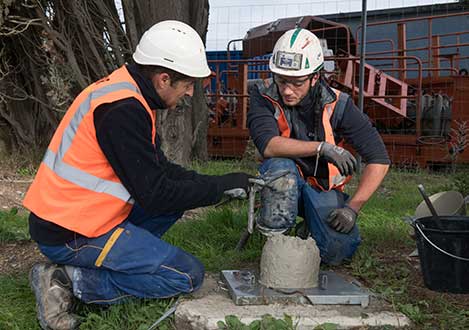 En créant notre propre école de formation, Plate Forme, nous nous sommes dotés d'un outil précieux qui nous garantit une totale autonomie dans la formation des collaborateurs et une conception sur-mesure de programmes qui répondent aux exigences des apprenants et aux besoins du Groupe.
4 centres de formation (3 en France et 1 au Maroc) et 2 plateaux techniques
80 programmes de formation
4 270 stagiaires en 2020
82 000 heures de formation en 2020