TECHNICIEN DE CHANTIER H/F
Contract :
Location :

France, Ile-de-France, brie comte robert
Domain :

Métier Fondations
Published on :

16/08/2022
To apply

Presentation
In France and around the world, our teams create, build and renovate infrastructures and buildings serving the territories. With their expertise and ability to work together, the 16,500 women and men of NGE approach and anticipate the changes in their business with confidence by being closer to customers. With a turnover of 3,1 billion euros in 2022, NGE is an independent French company that is developing around building and construction trades and participates in the construction of major infrastructures and urban or local projects
---
Description
 Intégrer NGE FONDATIONS, c'est rejoindre une filiale du Groupe NGE en plein essor spécialisée dans les travaux géotechniques et de sécurisation.
Afin de renforcer son équipe, nous recherchons pour notre secteur Injection un Technicien de Chantier H/F.

Rattaché(e) à la Direction , vous aurez pour mission :
- La  récupération et le traitement des données issus des enregistrement de paramètres de forage et d'injection (Jean Lutz)
- En appui du chef(fe) de chantier et sous la direction de l'ingénieur(e) travaux, la réalisation du suivi qualité au quotidien du chantier (étalonnage, essais de coulis etc)
- La  rédaction et mise au point du reporting journalier ou hebdomadaire du chantier au client en appui de l'ingénieur (e) travaux
- En fin de chantier, l 'analyse et la compilation des données de production pour réaliser le DOE et le retour d'expérience du chantier
Required profile
Issu(e) d'une formation de niveau Bac/Bac pro à  Bac+2, type BTS/ IUT Bâtiment ou TP , vous êtes débutant(e) ou justifiez d'une expérience d'1 an.
Votre sens du relationnel, votre rigueur et votre forte réactivité seront des atouts indispensables pour mener à bien les missions qui vous seront confiées.
 Vous souhaitez découvrir un nouvel environnement? N'hésitez pas !
---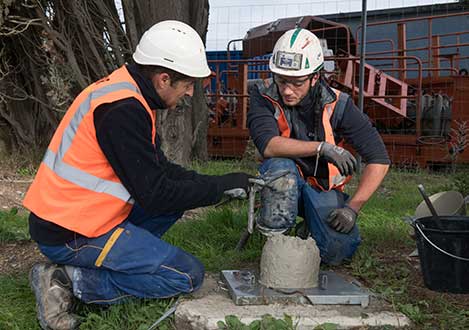 En créant notre propre école de formation, Plate Forme, nous nous sommes dotés d'un outil précieux qui nous garantit une totale autonomie dans la formation des collaborateurs et une conception sur-mesure de programmes qui répondent aux exigences des apprenants et aux besoins du Groupe.
4 centres de formation (3 en France et 1 au Maroc) et 2 plateaux techniques
80 programmes de formation
4 270 stagiaires en 2020
82 000 heures de formation en 2020