Technicien/Chargé d'études de prix H/F
Contract :
Location :

France, Occitanie, LUNEL (34400)
Domain :

Travaux paysagers
Published on :

05/04/2023
To apply
Presentation
In France and around the world, our teams create, build and renovate infrastructures and buildings serving the territories. With their expertise and ability to work together, the 16,500 women and men of NGE approach and anticipate the changes in their business with confidence by being closer to customers. With a turnover of 3,1 billion euros in 2022, NGE is an independent French company that is developing around building and construction trades and participates in the construction of major infrastructures and urban or local projects
---
Description
Dans le cadre du développement des activités de notre filiale NGE Paysages spécialisée dans les travaux paysagers basée à Lunel (34), nous recherchons un Technicien/Chargé d'étude de prix (H/F).

Rattaché(e) au Directeur d'Agence, vous participez aux réponses à appel d'offres, vous participez à l'évaluation technique et financière d'un projet et au montage du dossier de l'offre.
Vos missions :
- Instaurer une veille commerciale
- Planifier et organiser l'étude de prix
- Analyser les techniques du projet, puis définir les méthodes des parties constructives et du programme prévisionnel des travaux
-  Analyser le dossier et proposer des variantes
-  Participer au dossier d'AO et consulter les fournisseurs
-  Coordonner avec le laboratoire interne (variante, note technique, etc.)
-  Coordonner avec la cellule projet (métrés, plan de phasage…)
-  Coordonner avec partenaires (co-traitant, sous-traitant, …)
-  Déterminer le coût des travaux et boucler l'offre avec le responsable du BE
-  Rédiger l'ensemble des documents techniques relatifs au projet
Cette liste de mission n'est pas exhaustive.
Required profile
Titulaire d'une formation BAC+2, vous pouvez être Technicien confirmé(e) sur ce poste mais également Chargé(e) en étude de prix, vous justifiez d'une première expérience de 3 à 5 années dans l'étude de prix, sur un poste similaire.
Rigueur, autonomie, qualités rédactionnelles et esprit d'équipe sont autant de qualités requises pour ce poste.
---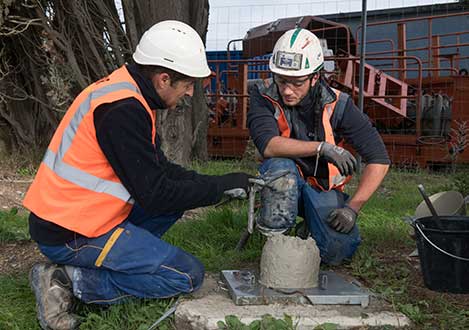 En créant notre propre école de formation, Plate Forme, nous nous sommes dotés d'un outil précieux qui nous garantit une totale autonomie dans la formation des collaborateurs et une conception sur-mesure de programmes qui répondent aux exigences des apprenants et aux besoins du Groupe.
4 centres de formation (3 en France et 1 au Maroc) et 2 plateaux techniques
80 programmes de formation
4 270 stagiaires en 2020
82 000 heures de formation en 2020