Responsable OPC H/F
Contract :
Location :

France, Provence-Cote d'Azur, Nice
Domain :

Encadrement opérationnel
Published on :

04/05/2023
To apply

Presentation
In France and around the world, our teams create, build and renovate infrastructures and buildings serving the territories. With their expertise and ability to work together, the 16,500 women and men of NGE approach and anticipate the changes in their business with confidence by being closer to customers. With a turnover of 3,1 billion euros in 2022, NGE is an independent French company that is developing around building and construction trades and participates in the construction of major infrastructures and urban or local projects
---
Description

Intégrer TSO Caténaires, c'est rejoindre une filiale du Groupe NGE en plein essor, spécialisée dans les études, la construction, la pose, le remaniement et l'entretien des lignes caténaires.


Dans le cadre de notre développement nous recherchons un Responsable OPC H/F, pour intégrer l'un de nos projets sur Nice.


Vos missions seront les suivantes :

Comprendre les travaux prévus par les co-traitants de notre groupement à partir notamment des plannings travaux de chaque intervenant.
Identifier les contraintes associées à ces travaux (accès des engins, consignations électriques, coactivité entre cotraitants ou avec activités externes au groupement).
Mettre en évidence les problèmes rencontrés et proposer/négocier des évolutions dans l'organisation des travaux.
Animer, avec le support du Directeur de Projet, des réunions de coordination de travaux.
Mettre à jour le planning travaux du groupement.

1.      Phase études :  

Appropriation du CCTP et de ses ANNEXES.
Intégration à l'équipe projet, identification des acteurs et de leur responsabilité en termes de travaux.
Identification des prérequis travaux entre les diverses interventions (en interne groupement et entre groupement et activités externes).
Analyse des plannings de chaque activité, et construction du planning consolidé.
Résolution des conflits qui peuvent l'être dès la phase études (par exemple coactivités incompatibles).
Le cas échéant, suggestion d'évolution/simplification de la planification chantier.                                                                                                                                                                                          

2.     Phase chantier :

Animation des réunions régulières des réunions de coordination planning
Proposition au cotraitants et au Directeur de Projet des évolutions de planning.
Résolution des conflits de coactivité qui restent à contrôler.
Mise à jour du planning consolidé
Accompagnement du Directeur de Projet pour évoquer les problématiques travaux avec le client.

Présence sur le chantier nécessaire.
Ce poste est a pourvoir en CDI.
Required profile
Titulaire d'un diplôme Ingénieur dans le domaine des travaux et/ou de la gestion de projet, vous avez un intérêt particulier pour le secteur ferroviaire.

Vous avez une expérience significative sur un poste similaire ou en conduite de travaux / planification de projet.

Vous avez un goût prononcé pour le terrain et le travail en équipe.

Vous maitrisez les outils informatiques.

Vous êtes reconnu(e) pour votre rigueur, vos capacités d'organisation et de suivi de projets.
---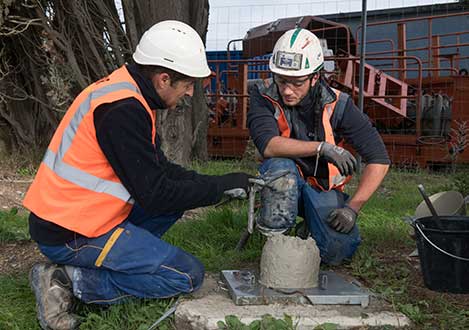 En créant notre propre école de formation, Plate Forme, nous nous sommes dotés d'un outil précieux qui nous garantit une totale autonomie dans la formation des collaborateurs et une conception sur-mesure de programmes qui répondent aux exigences des apprenants et aux besoins du Groupe.
4 centres de formation (3 en France et 1 au Maroc) et 2 plateaux techniques
80 programmes de formation
4 270 stagiaires en 2020
82 000 heures de formation en 2020