Projeteur confirmé H/F
Contract :
Location :

France, Auvergne-Rhône-Alpes, 69230 (Saint-Genis-Laval)
Domain :

Géomètre et Projeteur (DGEP)
Published on :

02/03/2023
To apply

Presentation
In France and around the world, our teams create, build and renovate infrastructures and buildings serving the territories. With their expertise and ability to work together, the 16,500 women and men of NGE approach and anticipate the changes in their business with confidence by being closer to customers. With a turnover of 3,1 billion euros in 2022, NGE is an independent French company that is developing around building and construction trades and participates in the construction of major infrastructures and urban or local projects
---
Description
Intégrer TSO Caténaires, c'est rejoindre une filiale du Groupe NGE en plein essor spécialisée dans l'études et travaux de construction, de pose, de remaniement et d'entretien des lignes caténaires en France et à l'étranger.

Dans le cadre de notre développement, nous recrutons un Projeteur confirmé H/F dans le domaine de l'alimentation HT/BT et de traction pour notre activité Energie.
 
Sous la hiérarchie du Directeur du Bureau d'Etudes, et fonctionnellement, du chef de projet, vos missions seront de :
Prendre en charge les études d'exécution nécessaires à la mise en œuvre des équipements électrotechniques, courants forts, en sous-stations ou en ligne : dimensionnements, calculs (sélectivité, chute de tension, …), choix de composants, implantation des équipements, rédaction de spécifications matérielles et logicielles, procédures ...
Effectuer le suivi des cahiers des charges, des normes en vigueur, et de l'état de l'art
Encadrer une équipe de 1 à 5 personnes (projeteurs, dessinateurs, automaticiens) pour la réalisation de ces prestations
Etre en relation avec les clients (MOE, MOA, AMO, contrôleur externe…), avec les fournisseurs et les différents services supports de l'entreprise (services achats, moyens …)

Ce poste est à pourvoir en CDI en région lyonnaise (69).
Des déplacements occasionnels sur le territoire national sont à prévoir.
 
Required profile
Titulaire d'un Bac+2 type BTS/DUT Electrotechnique, vous justifiez d'une expérience de 5 ans minimum dans les domaines mentionnés ci-dessus.

Vous appréciez les métiers techniques, le terrain et avez une certaine curiosité ainsi qu'une envie de comprendre et d'apprendre.

Vous êtes autonome, rigoureux(se) et avez une bonne capacité à vous adapter à des changements d'environnement.

Vous êtes habilité(e) C18510 et connaissez les normes C15100 & C13100.

Vous maîtrisez les logiciels suivants : Autocad ; CANECO BT et/ou ECODIAL ; See Electrical

---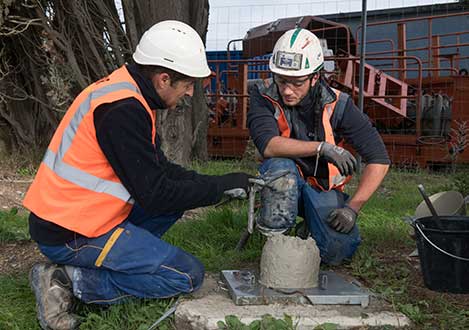 En créant notre propre école de formation, Plate Forme, nous nous sommes dotés d'un outil précieux qui nous garantit une totale autonomie dans la formation des collaborateurs et une conception sur-mesure de programmes qui répondent aux exigences des apprenants et aux besoins du Groupe.
4 centres de formation (3 en France et 1 au Maroc) et 2 plateaux techniques
80 programmes de formation
4 270 stagiaires en 2020
82 000 heures de formation en 2020