Parcours Alternance – Ingénieur Travaux H/F H/F
Contract :
Location :

France, Auvergne-Rhône-Alpes, Valence, 26000
Domain :

VRD
Published on :

30/03/2023
To apply

Presentation
In France and around the world, our teams create, build and renovate infrastructures and buildings serving the territories. With their expertise and ability to work together, the 16,500 women and men of NGE approach and anticipate the changes in their business with confidence by being closer to customers. With a turnover of 3,1 billion euros in 2022, NGE is an independent French company that is developing around building and construction trades and participates in the construction of major infrastructures and urban or local projects
---
Description
Tu prépares un diplôme d'ingénieur en alternance dans le BTP ? Tu es mobile et tu souhaites exercer plusieurs postes dans des métiers variés ? 

Ce programme est fait pour toi ! 
  
Avec le Parcours Générateur d'Entrepreneurs, NGE t'accompagne pendant 3 ans dans la découverte des différents métiers (génie civil, réseaux, terrassement, route, ferroviaire, géotechnique, bâtiment etc.) 
Chaque année, tu auras la chance de découvrir et d'intégrer une région ou filiale différente, avec une intégration obligatoire :

En bureau d'études 
En conduite de travaux 
Au sein d'une Filiale Nationale Spécialisée du Groupe NGE

Un parcours unique et personnalisé qui te permettra d'enrichir ton expérience et de créer ton réseau chez NGE. L'aventure n'attend plus que toi !

Required profile
Tu prépares un Master ou un diplôme d'ingénieur et tu souhaites réaliser une alternance au sein d'une structure en plein développement. La curiosité ainsi que le sens du travail en équipe sont des qualités précieuses pour mener le projet à terme. N'hésitez plus et rejoignez-nous !

Pour tout complément d'informations sur le programme, vous pouvez contacter : mmulsant@nge.fr

---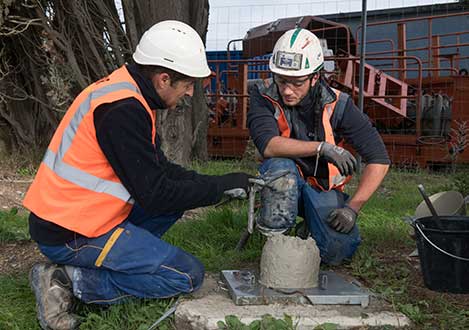 En créant notre propre école de formation, Plate Forme, nous nous sommes dotés d'un outil précieux qui nous garantit une totale autonomie dans la formation des collaborateurs et une conception sur-mesure de programmes qui répondent aux exigences des apprenants et aux besoins du Groupe.
4 centres de formation (3 en France et 1 au Maroc) et 2 plateaux techniques
80 programmes de formation
4 270 stagiaires en 2020
82 000 heures de formation en 2020