Opérateur en réhabilitation de réseaux sans tranchée H/F
Contract :
Location :

France, Ile-de-France, Paris (75)
Domain :

Canalisations et Réseaux
Published on :

09/03/2023
To apply
Presentation
In France and around the world, our teams create, build and renovate infrastructures and buildings serving the territories. With their expertise and ability to work together, the 16,500 women and men of NGE approach and anticipate the changes in their business with confidence by being closer to customers. With a turnover of 3,1 billion euros in 2022, NGE is an independent French company that is developing around building and construction trades and participates in the construction of major infrastructures and urban or local projects
---
Description
Dans le cadre de son développement, notre entité REHACANA (réhabilitation par chemisage de réseaux sans tranchée), recrute pour son activité en région Parisienne un Opérateur Canalisateur.
Dans le cadre de vos missions vous devrez :

Participer à la préparation du matériel pour le chantier
De veiller à l'entretien du matériel de pointe spécifique à l'activité « sans tranchée »
Mise en place de signalisation
Installation du matériel de réhabilitation
Pose de gaine de réhabilitation de réseau d'assainissement
La maintenance du réseau d'évacuation des eaux usées,
Pose de raccordements,
Inspection télévisée et rédaction de rapport
Opération de travaux préparatoire avant chemisage
Remise en service du réseau réhabilité
Aménagements des ouvertures ou regards pour effectuer les opérations de maintenance.
Remise en état de la voirie,
Contrôle du réseau



Prise de poste dés que possible.
Required profile
Vous êtes titulaire d'un CAP/BEP ou Bac Pro en construction de canalisations ou électromécanicien/électrotechnicien et vous justifiez d'une première expérience significative sur un poste similaire.
Vous avez de solides connaissances techniques en réseaux humides (eau potable et assainissement).
Le permis PL serait un plus.
---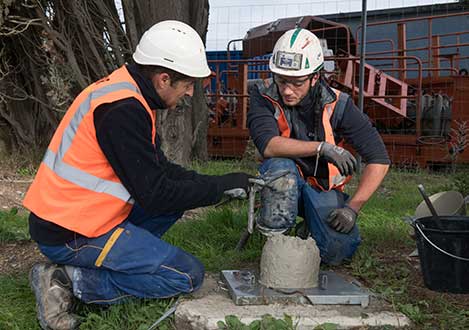 En créant notre propre école de formation, Plate Forme, nous nous sommes dotés d'un outil précieux qui nous garantit une totale autonomie dans la formation des collaborateurs et une conception sur-mesure de programmes qui répondent aux exigences des apprenants et aux besoins du Groupe.
4 centres de formation (3 en France et 1 au Maroc) et 2 plateaux techniques
80 programmes de formation
4 270 stagiaires en 2020
82 000 heures de formation en 2020