Ingénieur Méthodes H/F
Contract :
Location :

France, Provence-Cote d'Azur, 83000
Domain :

VRD
Published on :

22/07/2022
To apply

Presentation
In France and around the world, our teams create, build and renovate infrastructures and buildings serving the territories. With their expertise and ability to work together, the 16,500 women and men of NGE approach and anticipate the changes in their business with confidence by being closer to customers. With a turnover of 3,1 billion euros in 2022, NGE is an independent French company that is developing around building and construction trades and participates in the construction of major infrastructures and urban or local projects
---
Description
Intégrer Guintoli, c'est rejoindre une entité du Groupe NGE spécialisée dans les dans les activités de VRD/Terrassements.
Dans le cadre du développement de nos Grands Projets, nous recherchons un(e) Ingénieur(e) Méthodes pour intervenir sur le chantier de l'A57 situé à Toulon (83).
Vous serez rattaché(e) au Directeur de Projet, à ce titre vos principales missions seront :
- Planifier les travaux avec la mise à jour de l'ensemble des plannings
- Etudier et élaborer les phasages travaux
- Coordonner les travaux entre les membres du groupement et sous-traitants
- Assurer le suivi des travaux (suivi d'avancement hebdomadaire sur le terrain + suivi de production)
- Animer les réunions hebdo planning
- Organiser et animer des réunions spécifiques pour valider les phasages travaux
- Analyser les plans d'exécutions,
- Etudier les demandes supplémentaires MOE/MOA
- Aider à l'élaboration des DRC, FMT (fiche modificative travaux)
- Identifier et relever les contraintes et les conditions d'exécutions
- Piloter les plans méthodes avec les projeteurs : plan de balisage, de terrassement provisoire, de phasage, d'installation chantier
- Réaliser et présenter au MOE/MOA les Dossiers d'Exploitation Sous Chantier pour Vinci Autoroutes
- Réaliser et mettre à jour des synoptiques synthétiques
- Elaboration et suivi des demandes d'arrêtés
- Elaboration et suivi des Journaux de chantier (coordination des JDC métiers)
Required profile
Issu(e) d'une formation de niveau BAC+5 (Master ou diplôme d'Ingénieur) orientée travaux publics, vous justifiez de deux à trois ans d'expérience minimum sur un poste similaire en Méthodes .
Une expérience dans le BTP sur des chantiers d'infrastructures linéaires, d'autoroute, VRD et OA serait fortement appréciée.
La maîtrise des logiciels Autocad/Mensura et du pack office sont nécessaires.

Vous avez un bon relationnel et rédactionnel, vous êtes organisé(e), dynamique et vous savez être force de proposition avec l'ensemble des interlocuteurs qu'ils soient interne ou externe.
Vous souhaitez rejoindre un Groupe en pleine expansion, transmettez-nous votre candidature
---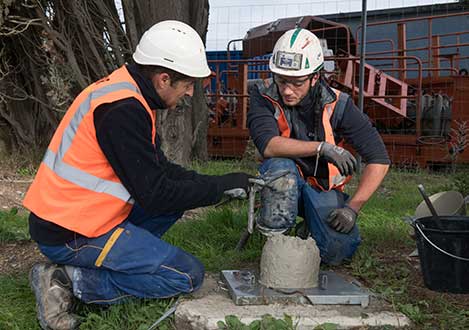 En créant notre propre école de formation, Plate Forme, nous nous sommes dotés d'un outil précieux qui nous garantit une totale autonomie dans la formation des collaborateurs et une conception sur-mesure de programmes qui répondent aux exigences des apprenants et aux besoins du Groupe.
4 centres de formation (3 en France et 1 au Maroc) et 2 plateaux techniques
80 programmes de formation
4 270 stagiaires en 2020
82 000 heures de formation en 2020