Ingénieur études de prix H/F
Contract :
Location :

France, Ile-de-France, Chelles 77500
Domain :

Encadrement opérationnel
Published on :

23/03/2023
To apply

Presentation
In France and around the world, our teams create, build and renovate infrastructures and buildings serving the territories. With their expertise and ability to work together, the 16,500 women and men of NGE approach and anticipate the changes in their business with confidence by being closer to customers. With a turnover of 3,1 billion euros in 2022, NGE is an independent French company that is developing around building and construction trades and participates in the construction of major infrastructures and urban or local projects
---
Description
Intégrer TSO, c'est rejoindre une filiale du Groupe NGE spécialisée dans les travaux de voie ferrée sur le réseau ferrée national et les réseaux urbains.

Dans le cadre du développement de la Direction Opérationnelle Ile-de-France, nous recherchons un Ingénieur études de prix H/F.
En tant qu'Ingénieur études de prix H/F, en lien avec la direction opérationnelle, vous collaborez au sein du bureau d'études de prix en participant aux réponses aux appels d'offres. Vous participez à l'évaluation technique et financière des projets, à la sélection des affaires, au montage du dossier de l'offre et au suivi du processus de négociation. Vous contribuez à l'obtention de nouveaux contrats.

A ce titre, votre rôle consiste à :

PARTICIPER A LA SELECTION DES AFFAIRES
- Analyser les Dossiers de Consultation des Entreprises
- Identifier les moyens nécessaires en lien avec le plan de charge de l'activité
- Préparer la sélection des affaires en vue de l'établissement des offres

PARTICIPER A LA PREPARATION ET AU SUIVI DES OFFRES
- Vérifier et analyser le dossier de consultation
- Réaliser la visite sur site
- Définir les méthodes d'exécution
- Être force de proposition sur les optimisations et variantes possibles
- Réaliser le planning d'exécution
- Rédiger les éléments techniques de l'offre
- Solliciter l'exploitation (travaux) les services supports si besoin (QSE, achats, juridique, assurances, etc.)
- Échanger avec les éventuels partenaires dans le cadre des groupements
- Consulter les fournisseurs et sous-traitants
- Établir les coûts de revient
- Préparer et participer aux réunions nécessaires à l'étude (lancement, bouclage technique, bouclage financier, passation études/travaux …) ;
- Assurer de la conformité de l'offre remise par rapport aux critères attendus par le client
- Assurer le respect des délais


Ce poste est à pourvoir en CDI à Chelles (77). Des opportunités de télétravail sont possibles selon les règles en vigueur dans l'entreprise.
 

EVOLUTIONS POSSIBLES
- Gagner en compétences et en autonomie au fil des projets
- Évoluer techniquement vers différents types d'offres (Voie ballast, voie sur dalle, réseaux urbains, maintenance, grands projets…)
S'orienter vers le pilotage d'offres de plus en plus complexes
- Evolution possible sur des fonctions de management, ou en production
Required profile
Titulaire d'un diplôme d'ingénieur ou d'un Bac+5 ou équivalent, vous êtes rigoureux(se) et autonome. Vous êtes également reconnu(e) pour votre méthodologie, votre esprit de synthèse, votre capacité d'organisation et vos capacités rédactionnelles.

Une expérience dans les travaux ferroviaires ou en études de prix serait un plus
---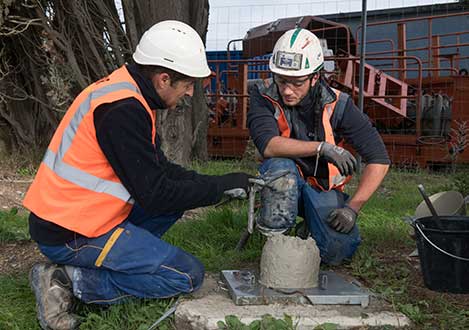 En créant notre propre école de formation, Plate Forme, nous nous sommes dotés d'un outil précieux qui nous garantit une totale autonomie dans la formation des collaborateurs et une conception sur-mesure de programmes qui répondent aux exigences des apprenants et aux besoins du Groupe.
4 centres de formation (3 en France et 1 au Maroc) et 2 plateaux techniques
80 programmes de formation
4 270 stagiaires en 2020
82 000 heures de formation en 2020