Dessinateur Bureau d'Etudes H/F
Contract :
Location :

France, Auvergne-Rhône-Alpes, Saint Genis Laval (69)
Domain :

Etudes techniques (DST)
Published on :

08/03/2023
To apply

Presentation
In France and around the world, our teams create, build and renovate infrastructures and buildings serving the territories. With their expertise and ability to work together, the 16,500 women and men of NGE approach and anticipate the changes in their business with confidence by being closer to customers. With a turnover of 3,1 billion euros in 2022, NGE is an independent French company that is developing around building and construction trades and participates in the construction of major infrastructures and urban or local projects
---
Description
Intégrer TSO Caténaires, c'est rejoindre une filiale du Groupe NGE en plein essor spécialisée dans l'études et travaux de construction, de pose, de remaniement et d'entretien des lignes caténaires en France et à l'étranger.

Dans le cadre de notre développement, nous recherchons un(e) Dessinateur Bureau d'Etudes H/F pour travailler sur les projets de transport de TSO Caténaires.

Ces projets ont pour objectifs de :
- Réaliser l'ensemble des plans nécessaires à la bonne exécution des travaux
- Assurer le suivi et l'assistance technique auprès des opérationnels
- Participer au développement technologique du pôle ingénierie

Rattaché(e) au Responsable Etude Technique, vos missions consistent à :

En phase de réponse à l'offre :
- Participer à l'élaboration technique de la réponse

En phase de projet :
- Intégrer une équipe de 4 à 5 personnes pour la réalisation des plans techniques et des calculs mécaniques
- Participer à la définition de la solution (rédaction de la spécification, conception) et de sa réalisation jusqu'à la mise en service.


Ce poste est à pourvoir en CDI sur Saint Genis Laval (69).
Required profile
Technicien BE diplômé d'un BAC +2/3 Mécanique type Licence, DUT GMP ou BTS CPI, vous avez idéalement une première expérience de logiciel CAO/DAO.

Une expérience dans la caténaire ou la LAC serait appréciée.

Vous disposez des connaissances techniques suivantes :
Dessins techniques, cotations,…
Calculs mécaniques et Résistance des matériaux

Vous êtes rigoureux, techniquement curieux, vous désirez progresser dans une entreprise dynamique, en expansion et offrant des réelles opportunités tout en conservant la dimension humaine, alors rejoignez-nous !
---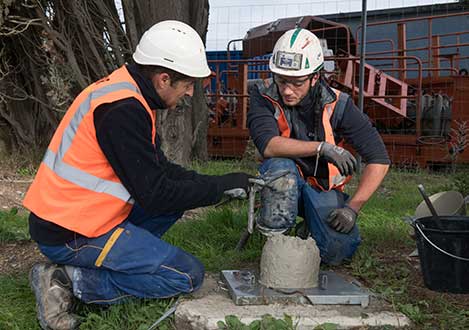 En créant notre propre école de formation, Plate Forme, nous nous sommes dotés d'un outil précieux qui nous garantit une totale autonomie dans la formation des collaborateurs et une conception sur-mesure de programmes qui répondent aux exigences des apprenants et aux besoins du Groupe.
4 centres de formation (3 en France et 1 au Maroc) et 2 plateaux techniques
80 programmes de formation
4 270 stagiaires en 2020
82 000 heures de formation en 2020