Contract Manager H/F
Contract :
Location :

France, Ile-de-France, Brétigny Sur Orge
Domain :

Encadrement opérationnel
Published on :

03/04/2023
To apply

Presentation
In France and around the world, our teams create, build and renovate infrastructures and buildings serving the territories. With their expertise and ability to work together, the 16,500 women and men of NGE approach and anticipate the changes in their business with confidence by being closer to customers. With a turnover of 3,1 billion euros in 2022, NGE is an independent French company that is developing around building and construction trades and participates in the construction of major infrastructures and urban or local projects
---
Description
Intégrer TSO Caténaires, c'est rejoindre une filiale du Groupe NGE en plein essor, spécialisée dans les études, la construction, la pose, le remaniement et l'entretien des lignes caténaires.

Dans le cadre de notre développement, nous recrutons un Contract Manager (H/F), pour les besoins d'un grand projet sur le secteur Ile de France.

A ce titre, vous venez intégrer l'équipe de pilotage de projet qui comprend la préparation, la planification de la production, le suivi budgétaire, la gestion contractuelle et gestion des risques, le reporting, les échanges internes et externes, etc…. Vous êtes un maillon essentiel dans l'organisation et la réalisation du suivi de projet.

Vous êtes le(la) garant(e) de la gestion contractuelle du projet, en accord avec le Directeur de Projet et dans le respect des règles et des procédures de l'Entreprise.

Rattaché(e) à l'équipe Contract Management de TSO, vous dépendez fonctionnellement du Directeur de Projet. Votre rôle principal consiste à assurer :
- L'analyse des demandes du client et ordres de services, au regard des documents contractuels et du processus de conception/réalisation de projet
- La traçabilité des événements/modifications préjudiciables, leur suivi et valorisation auprès du client
- La rédaction des réponses et réserves
- Le suivi des risques projet
- L'établissement et suivi des contrats de sous-traitance et de fourniture
- Le suivi des sinistres
- Le pilotage des établissements des décomptes mensuels
- La rédaction de courriers (alertes, demandes, traçabilité)
- Le suivi documentaire
- Une participation aux échanges internes au sein du groupement et avec les sous-traitants
- La rédaction et suivi des demandes de règlements complémentaires et réclamations


Required profile
Nous recherchons le profil suivant :
- Profil Technique - Ingénieur ou Master Technique
- Expérience terrain et en conduite de projets techniques
- Expérience dans le suivi contractuel de projet

Une connaissance du domaine des infrastructures ferroviaires serait un plus.

Les qualités requises pour le poste sont l'esprit de synthèse, la rigueur, la curiosité et l'ouverture d'esprit afin d'exercer dans un environnement complexe tel que le ferroviaire.
Vous bénéficiez aussi d'une aisance à communiquer auprès des interlocuteurs internes et externes.

Permis B nécessaire.
---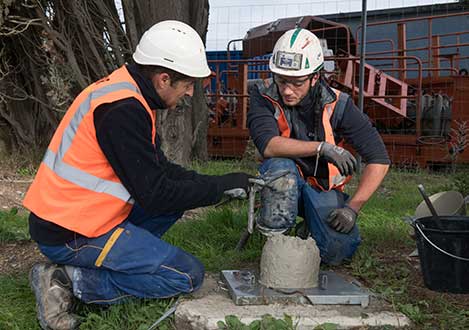 En créant notre propre école de formation, Plate Forme, nous nous sommes dotés d'un outil précieux qui nous garantit une totale autonomie dans la formation des collaborateurs et une conception sur-mesure de programmes qui répondent aux exigences des apprenants et aux besoins du Groupe.
4 centres de formation (3 en France et 1 au Maroc) et 2 plateaux techniques
80 programmes de formation
4 270 stagiaires en 2020
82 000 heures de formation en 2020