Conducteur de Scrap H/F
Contract :
Location :

France, Nouvelle-Aquitaine, 16270
Domain :

Conduite d'engins
Published on :

03/11/2022
To apply

Presentation
In France and around the world, our teams create, build and renovate infrastructures and buildings serving the territories. With their expertise and ability to work together, the 16,500 women and men of NGE approach and anticipate the changes in their business with confidence by being closer to customers. With a turnover of 3,1 billion euros in 2022, NGE is an independent French company that is developing around building and construction trades and participates in the construction of major infrastructures and urban or local projects
---
Description
Dans le cadre de son développement, le Groupe NGE (Nouvelles Générations d'Entrepreneurs), 4ème groupe de BTP en France, recrute des Conducteurs de Scrap (F/H) pour son entité GUINTOLI spécialisée dans les activités de terrassements et VRD.
Vous dépendrez de notre cellule Grands Projets France qui intervient sur l'ensemble du territoire, une forte mobilité est nécessaire pour vous déplacer sur l'ensemble de nos chantiers.
Dans un premier temps, vous serez formé sur une période de 6 mois sur le chantier de la RN141 (création d'une 2x2 voies sur 11 kilomètres) à Roumazières (département de la Charente). Vous serez par la suite affecté au chantier autoroutier de l'A69 (création de 52 kilomètres d'autoroute en 2x2 voies entre Toulouse et Castres).
A ce titre vos principales missions seront :

Réaliser les tâches liées aux terrassements, notamment l'extraction et le transport des matériaux meubles selon les consignes qui vous seront données
Respecter les consignes de bon fonctionnement et veiller la propreté de son engin,
Examiner l'engin et ses équipements et mettre en pratique la maintenance de base, pour un usage au travail en toute sécurité
Communiquer les anomalies et difficultés rencontrées dans l'exercice de ses fonctions
Required profile
Nous recherchons des personnes ayant déjà de l'expérience sur des machines similaires OU des personnes désireuses d'apprendre et d'être formées au métier. Cette formation vous permettra d'acquérir les premiers gestes professionnels et vous permettra d'apprendre à travailler en sécurité.

Le Conducteur de Scrap conduit un engin lourd de terrassement destiné à l'extraction et au transport de matériaux selon les règles de sécurité.
Volontaire et sérieux, il participe activement à la réalisation et à la réussite du projet.
Assidu et vigilent vous adoptez une attitude positive, incarnez les valeurs du Groupe et savez travailler en équipe. Cette liste de mission est non exhaustive.
Aucun diplôme ni expérience exigée.
Nous recherchons des personnes ayant la volonté de s'investir dans leur mission et les tâches qui leur seront confiées.
N'hésitez plus et venez rejoindre un groupe d'envergure au sur des projets phares !
Permis B obligatoire

---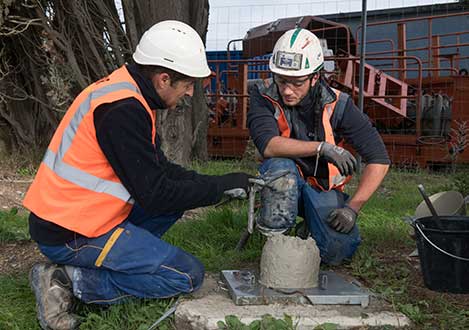 En créant notre propre école de formation, Plate Forme, nous nous sommes dotés d'un outil précieux qui nous garantit une totale autonomie dans la formation des collaborateurs et une conception sur-mesure de programmes qui répondent aux exigences des apprenants et aux besoins du Groupe.
4 centres de formation (3 en France et 1 au Maroc) et 2 plateaux techniques
80 programmes de formation
4 270 stagiaires en 2020
82 000 heures de formation en 2020