Chef d'équipe monteur réseaux aérien H/F
Contract :
Location :

France, Nouvelle-Aquitaine, 17100 Saintes
Domain :

Réseaux Electriques
Publication date :

17/10/2022
To apply

Presentation
Participer à la construction et à la rénovation d'infrastructures au service des territoires. Rejoindre un Groupe en plein développement en France et à l'international (2,8 milliards d'euros de chiffre d'affaires en 2021). Intégrer une entreprise composée de 16 000 femmes et hommes réunis autour de 3 valeurs fortes : l'unité, la transparence et l'ambition. Accepter de vivre une expérience riche en rejoignant des équipes de passionnés.
---
Description
Dans le cadre de du développement de notre agence Lacis, nous recherchons un Chef d'équipe monteur réseaux aérien F/H pour notre agence de Saintes (17).
Vos principales missions seront :
.         Gestion d'équipe et management,
·        Réaliser tous les travaux de distribution d'énergie électrique (aérien et souterrain),
·        Implanter, prolonger, supprimer une ligne existante ou augmenter sa capacité de transport,
·        Assurer la sécurité du chantier par la mise en place de la signalisation et du balisage
·        Respecter les règles de sécurités, délais et procédures de qualités,
·        Réaliser des branchements électriques aériens et souterrains et des ouvrages HTA/BT
Des déplacements régionaux sont à prévoir.
Required profile
Vous êtes de formation CAP, BEP, Bac Pro Electrotechnique et/ou disposez d'un titre professionnel de monteur réseaux et vous avez une expérience de chef d'équipe ou de chantier.
Vous disposez d'une expérience de plus de 5 ans sur un poste identique ou équivalent.
Vous êtes titulaire du permis B, BE ou C.
---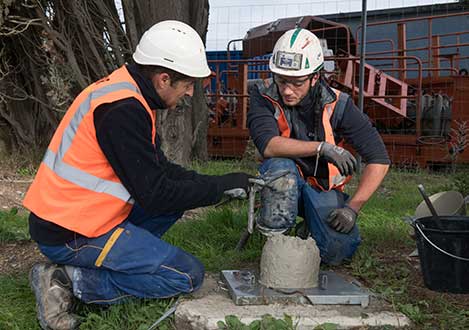 En créant notre propre école de formation, Plate Forme, nous nous sommes dotés d'un outil précieux qui nous garantit une totale autonomie dans la formation des collaborateurs et une conception sur-mesure de programmes qui répondent aux exigences des apprenants et aux besoins du Groupe.
4 centres de formation (3 en France et 1 au Maroc) et 2 plateaux techniques
80 programmes de formation
4 270 stagiaires en 2020
82 000 heures de formation en 2020