Chef de chantier H/F
Contract :
Location :

France, Provence-Cote d'Azur, 84250
Domain :

Equipements de la route
Published on :

09/01/2023
To apply

Presentation
In France and around the world, our teams create, build and renovate infrastructures and buildings serving the territories. With their expertise and ability to work together, the 16,500 women and men of NGE approach and anticipate the changes in their business with confidence by being closer to customers. With a turnover of 3,1 billion euros in 2022, NGE is an independent French company that is developing around building and construction trades and participates in the construction of major infrastructures and urban or local projects
---
Description
Vous intégrez la cellule Grands Travaux d'AGILIS. Cette entité est spécialisée dans les projets d'envergures et est un acteur national majeur des travaux d'écrans acoustiques.
En tant que Chef de chantier F/H, vous serez garant de la bonne exécution des travaux. A ce titre, vous assurez l'organisation de chantiers ainsi que le management des équipes.
Votre rôle consiste à :
- Anticiper la préparation et la réalisation des chantiers,
- Prévoir l'approvisionnement des chantiers dans tous les domaines (matériels, matériaux, humain…) en coordination avec le conducteur de travaux,
- Organiser, planifier et superviser le travail des équipes au quotidien,
- Assurer le suivi, l'organisation et le contrôle de l'exécution des travaux, dans les différentes phases des chantiers,
- Garantir les méthodes et l'expertise technique des travaux,
- S'assurer du respect des règles de sécurité et d'environnement,
- Vérifier les rapports de chantier (pointages, fournitures, travaux,…),
- Renseigner les supports de suivi d'activité : reporting, bon de commande…
- Analyser les données, informer et communiquer sur les avancés et les difficultés du chantier,
- S'assurer de la constatation des travaux réalisés en vue de leur facturation.
Required profile
Vous avez au moins 2 ans d'expérience en tant que chef de chantier. Vous êtes doté d'un bon relationnel, d'un esprit d'analyse, de synthèse et êtes organisé.
---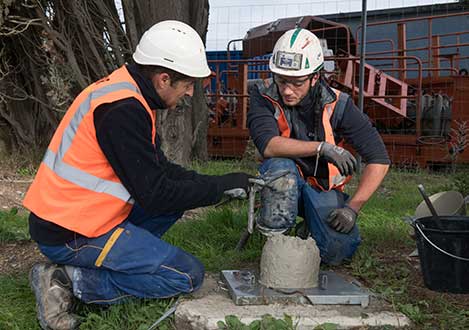 En créant notre propre école de formation, Plate Forme, nous nous sommes dotés d'un outil précieux qui nous garantit une totale autonomie dans la formation des collaborateurs et une conception sur-mesure de programmes qui répondent aux exigences des apprenants et aux besoins du Groupe.
4 centres de formation (3 en France et 1 au Maroc) et 2 plateaux techniques
80 programmes de formation
4 270 stagiaires en 2020
82 000 heures de formation en 2020