Chef de Chantier Bâtiment H/F
Contract :
Location :

France, Pays de Loire, Nantes
Domain :

Bâtiment
Published on :

17/05/2023
To apply
Presentation
In France and around the world, our teams create, build and renovate infrastructures and buildings serving the territories. With their expertise and ability to work together, the 16,500 women and men of NGE approach and anticipate the changes in their business with confidence by being closer to customers. With a turnover of 3,1 billion euros in 2022, NGE is an independent French company that is developing around building and construction trades and participates in the construction of major infrastructures and urban or local projects
---
Description
Dans le cadre de son développement, NGE BATIMENT recherche un chef de chantier pour rejoindre ses équipes en Bretagne-Pays de la Loire.
En collaboration étroite avec le Conducteur de Travaux, vous avez la responsabilité de la bonne exécution d'un chantier.
- Vous dirigez l'exécution des travaux sur le chantier suivant les plans et les méthodes définies.
- Vous gérez l'installation, le démarrage du chantier, l'organisation, la phase de réalisation (implantations, rotations...) conformément aux règles et respectez les règlements en vigueur dans l'entreprise.
- Vous prévoyez les besoins du chantier en main d'œuvre, matériaux, matériels et en assurez le meilleur emploi afin de respecter les budgets et délais fixés.
- Vous veillez à l'application et au respect des règles d'hygiène et de sécurité (PPSPS) que vous présentez à vos équipes.
- Vous assurez le management  des équipes de production
Poste rattaché à la Direction Régionale Ile de France basée à Massy (91), vous êtes susceptible d'intervenir sur toute la région.
Required profile
De formation technique, vous justifiez d'une expérience de 5 ans minimum sur un poste similaire. Doté(e) de qualités managériales reconnues, vous avez de réelles compétences techniques en gros œuvre, méthodes de rotations et coffrages. Vous êtes à l'aise avec l'outil informatique. Vous aimez les challenges et souhaitez évoluer au sein d'une entreprise où les valeurs humaines sont essentielles.
---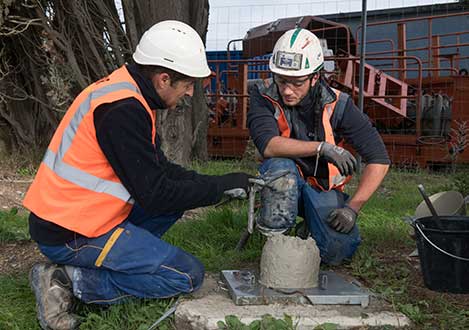 En créant notre propre école de formation, Plate Forme, nous nous sommes dotés d'un outil précieux qui nous garantit une totale autonomie dans la formation des collaborateurs et une conception sur-mesure de programmes qui répondent aux exigences des apprenants et aux besoins du Groupe.
4 centres de formation (3 en France et 1 au Maroc) et 2 plateaux techniques
80 programmes de formation
4 270 stagiaires en 2020
82 000 heures de formation en 2020