Apprenti Géomètre Topographe H/F
Contract :
Location :

France, National - Paris
Domain :

Géomètre et Projeteur (DGEP)
Published on :

29/03/2023
To apply

Presentation
In France and around the world, our teams create, build and renovate infrastructures and buildings serving the territories. With their expertise and ability to work together, the 16,500 women and men of NGE approach and anticipate the changes in their business with confidence by being closer to customers. With a turnover of 3,1 billion euros in 2022, NGE is an independent French company that is developing around building and construction trades and participates in the construction of major infrastructures and urban or local projects
---
Description
TSO est intégré au sein de NGE depuis 2011, permettant au groupe d'adresser des projets multi-métiers de grande ampleur en France et à l'international.


Présent tant au niveau national qu'international, TSO, forte de plus de 90 années d'expérience, détient expérience et savoir-faire dans le domaine de la construction, le renouvellement et l'entretien de voie ferrées.

Dans le cadre de notre développement, nous recherchons un(e) Apprenti(e) Topographe. Hiérarchiquement rattaché(e) au Directeur Etudes & Projets Topographiques de TSO, vous l'accompagnerez sur différentes missions :

Préparer les interventions de vos équipes
Réaliser les démarches nécessaires à l'obtention des autorisations d'accès
Réaliser les inspections communes et collecter les informations relatives aux chantier
Exploiter les documents transmis (plans, fiches de polygonale, cahier de profils en travers, …), s'assure de leur exhaustivité et sollicite si besoin,
Transmettre en amont les directives et documents, veiller à la bonne compréhension des consignes
Participer à l'élaboration du planning d'intervention, planifier le personnel et déterminer le type de matériel nécessaire à la réalisation du chantier
S'assure de la bonne coordination entre l'activité de son équipe et les équipes chantier

Contrôler et réaliser les relevés topographiques sur chantier
Contrôler et coordonner les relevés topographiques (métrés, les cubatures, relevés simples et complexes, …)
Vérifier, d'après les relevés de ses équipes, la conformité des différentes phases de travaux (couches de forme, chaussée, terrassement, purge, …)
Réceptionner et valider la polygonale principale (vérification des écarts, densification, …)
Organiser les contrôles internes et externes.
 
Assure une transmission d'information efficace et régulière :
S'assurer et contrôler les informations transmises par ses équipes (rapports détaillés, fiche de non-conformité, …),
Retranscrire, sur les logiciels dédiés, les relevés afin d'effectuer des reports fiables pour la réalisation des plans, des métrés, etc.
Réaliser les différents plans ou documents d'exécution (modèle numérique des plateformes de guidage, les plans d'implantation, les profils en travers, …)

Des déplacements nationaux sont à envisager.
Required profile
Vous préparer un diplôme de type BTS ou encore une licence professionnelle spécialisé en géométrie/topographie.

Vous avez une connaissance des logiciels de DAO/CAO et vous savez appréhender les matériels de topographie. 

Méthodique et précis, vous êtes également reconnu(e) pour votre ponctualité et votre aisance dans le travail collaboratif.

Le Permis B est obligatoire.
---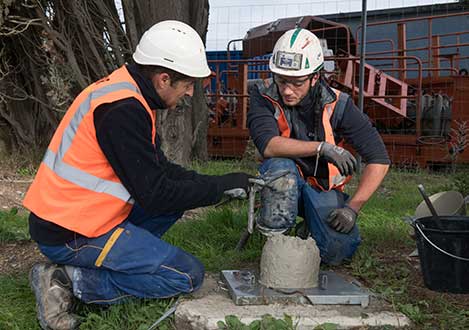 En créant notre propre école de formation, Plate Forme, nous nous sommes dotés d'un outil précieux qui nous garantit une totale autonomie dans la formation des collaborateurs et une conception sur-mesure de programmes qui répondent aux exigences des apprenants et aux besoins du Groupe.
4 centres de formation (3 en France et 1 au Maroc) et 2 plateaux techniques
80 programmes de formation
4 270 stagiaires en 2020
82 000 heures de formation en 2020