ALTERNANCE – Projeteur VRD H/F
Contract :
Location :

France, Auvergne-Rhône-Alpes, St-Etienne, 42000
Domain :

Géomètre et Projeteur (DGEP)
Published on :

14/02/2023
To apply

Presentation
In France and around the world, our teams create, build and renovate infrastructures and buildings serving the territories. With their expertise and ability to work together, the 16,500 women and men of NGE approach and anticipate the changes in their business with confidence by being closer to customers. With a turnover of 3,1 billion euros in 2022, NGE is an independent French company that is developing around building and construction trades and participates in the construction of major infrastructures and urban or local projects
---
Description
Dans le cadre du développement de nos activités, nous recherchons pour notre entité GUINTOLI spécialisée dans la VRD et le Terrassement, un(e) Projeteur (F/H) en alternance, rattaché(e) à l'agence de St-Etienne (42000).
Rattaché(e) à un chef de Mission topographie, vous interviendrez sur des chantiers de VRD et Terrassement.

 Les relevés topographiques des terrains existants avec leur transcription informatique, en phase d'appel d'offre et de début de chantier.
Réaliser les plans d'exécution de terrassement, voiries, projet VRD
Les implantations de nos ouvrages sur les chantiers en coordination avec nos équipes travaux.
La préparation de fichier de guidage pour nos machines guidées (pelles/bulls/niveleuses)
L'établissement des métrés et avant-métrés.
L'établissement de réception pour les levés de point d'arrêt.
Les relevés de récolement avec établissement des plans des ouvrages réalisés pour le DOE (Dossier d'Ouvrage Exécuté) à remettre au client en fin de chantier.
La réalisation des projets d'exécution pour des chantiers de petites tailles

Vous participerez donc à la vie des chantiers de la phase d'appel d'offre jusqu'au plan de récolement avec la livraison au client.
*Cette liste est non exhaustive
Required profile
Étudiant en BAC Pro, BTS/DUT ou Licence, vous souhaitez acquérir une expérience professionnelle dans le domaine de la topographie pour nos chantiers en VRD et Terrassement
Vous êtes autonome et rigoureux(se), n'hésitez plus et postulez !
---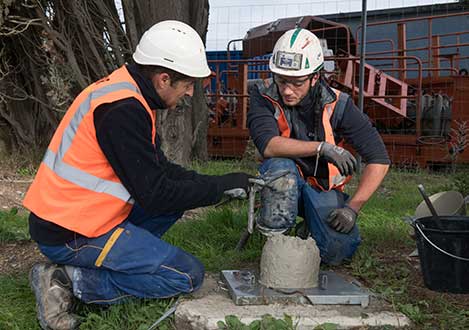 En créant notre propre école de formation, Plate Forme, nous nous sommes dotés d'un outil précieux qui nous garantit une totale autonomie dans la formation des collaborateurs et une conception sur-mesure de programmes qui répondent aux exigences des apprenants et aux besoins du Groupe.
4 centres de formation (3 en France et 1 au Maroc) et 2 plateaux techniques
80 programmes de formation
4 270 stagiaires en 2020
82 000 heures de formation en 2020