Aide Conducteur de Travaux H/F
Contract :
Location :

France, Occitanie, Nord de Montpellier
Domain :

Encadrement opérationnel
Published on :

17/05/2023
To apply

Presentation
In France and around the world, our teams create, build and renovate infrastructures and buildings serving the territories. With their expertise and ability to work together, the 16,500 women and men of NGE approach and anticipate the changes in their business with confidence by being closer to customers. With a turnover of 3,1 billion euros in 2022, NGE is an independent French company that is developing around building and construction trades and participates in the construction of major infrastructures and urban or local projects
---
Description
Présent tant au niveau national qu'international, TSO, forte de plus de 90 années d'expérience, détient expérience et savoir-faire dans le domaine de la construction, le renouvellement et l'entretien de voie ferrées.

Le projet : Tramway Ligne 5 Nord de Montpellier 

Face aux enjeux environnementaux et de santé publique liés à la croissance du trafic automobile sur le territoire, Montpellier Méditerranée Métropole relève un défi majeur pour sa transition écologique : celui d'une mobilité plus verte, à la fois sociale et solidaire.

Actrice de cette politique engagée vers une mobilité zéro carbone, la Ligne 5, avec sa diagonale de 16 kilomètres, traversera à horizon 2025, la métropole et ses quartiers.

Nous recherchons des Aides Conducteur de Travaux H/F pour notre chantier situé à Montpellier.
Rattaché(e) au Conducteur de travaux Principal, vous assurerez l'organisation du chantier, la logistique, la planification, l'interface client et le suivi du chantier.

Votre mission consiste à :
Suivre l'organisation du chantier : organisation générale des équipes conformément au programme travaux
Assurer la logistique : programmation des ressources : fournitures , matériels, équipes travaux …
Planification du chantier
Garantir l'interface client et participation aux réunions
Effectuer le suivi du chantier : rapports journaliers, achats, avancement…


Required profile
Vous êtes actuellement en dernière année d'école d'Ingénieur en TP ou Génie Civil, intéressé(e) par les chantiers et envie de découvrir le métier de voie ferrée urbaine.

Vous êtes doté d'un esprit d'analyse, vous êtes capable de mener un travail de fond intégrant différents domaines et vous cherchez à enrichir votre champ de compétences.


L'autonomie, la rigueur ainsi que le sens du travail en équipe sont des qualités précieuses pour mener ce projet à terme.
---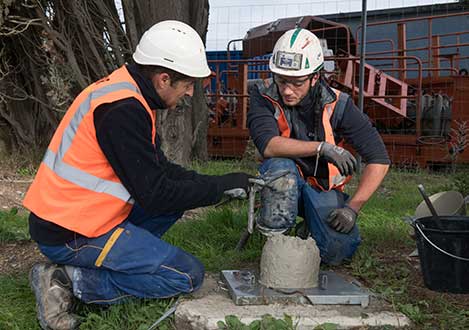 En créant notre propre école de formation, Plate Forme, nous nous sommes dotés d'un outil précieux qui nous garantit une totale autonomie dans la formation des collaborateurs et une conception sur-mesure de programmes qui répondent aux exigences des apprenants et aux besoins du Groupe.
4 centres de formation (3 en France et 1 au Maroc) et 2 plateaux techniques
80 programmes de formation
4 270 stagiaires en 2020
82 000 heures de formation en 2020